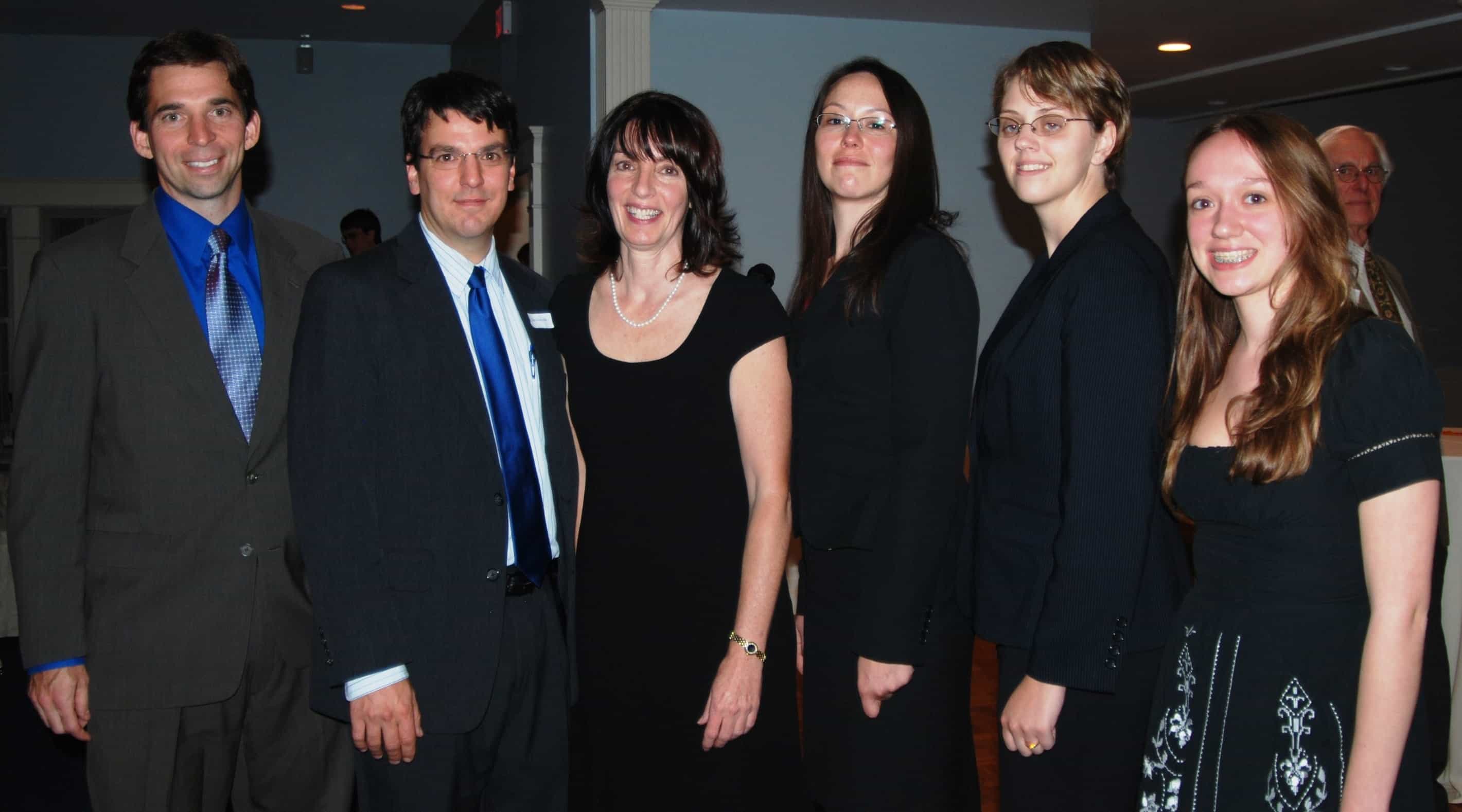 The Office of the Community Lawyer has an intern program for high school and college students. Interns get valuable experience working in a legal office where the goal is not the bottom line, but building citizenship and community activism. Interns are given complex projects that have a broad impact on their lives and the entire community.
Over the years, high school, college, and law interns from Amherst College, Barnard College, Bates College, Brandeis University, Colorado School of Mines, Cornell University, Elon College, Gilbert School, Hotchkiss School, Indiana University, Miss Porters School, New York University, Northwestern Regional District 7 School, St. Joseph College, University of Colorado, University of Hartford, Wake Forest University, Vermont Law School, Rutgers Law School, Quinnipiac Law School and the University of Connecticut Law School, have initiated and participated in a variety of local projects.
While it is impossible in this report to include every intern and their work, here are several examples:
James Scrimgeour, a student at Amherst College, worked with the community lawyer in the summer of 1990 and after graduation, returned full-time in 1991/1992, and again in the summer of 1997, while a student at the University of Connecticut Law School. He helped organize the original student canvass, which worked on lake issues and a municipal shade tree inventory. He also prepared drafts of the street tree ordinance and obtained grants for the planting and care of municipal trees. He wrote research reports, letters to officials and newspapers articles on such diverse topics as bovine growth hormone (bGH), potholes and congressional pay raises. As a law student, he helped the community lawyer on a SLAPP case, wrote a memorandum on revocation of a corporate charter, researched issues on cellular tower siting and conflicts of interest. A 1999 law graduate, Jamie served as a clerk for a justice of the Connecticut Supreme Court and is now Senior Counsel, Reinsurance Litigation for The Travelers. He also volunteers as the Director of the non-profit Center for First Amendment Rights.
As a Cornell University student in 1993, 1994, and a University of Connecticut Law School student in 2000, Ami Gadhia worked as an intern for the community lawyer. Working with the student canvass, she researched several "next step" reports on topics regarding municipal issues such as drinking water quality, radon issues, historic resources, sidewalks, roads and de-icing materials and community technology – a basis for establishing a position for an engineer to help citizens understand technical issues facing the community. Ami is now the Policy Counsel for Product, Food, and Auto Safety at Consumers Union in Washington, D.C.
In 2002/2003, University of Connecticut Law School intern Mary-Kate Smith helped the community lawyer organize and conduct the multi-town USA PATRIOT Act Roadshow, researching the law and its flaws. In addition, Commercial Alert, a non-profit organization that monitors the spread of commercialism in communities, requested an analysis of the contract used in Connecticut by vendors seeking to advertise on municipal property. Her analysis of the contract illuminated the corporate scheme of paid advertisements on municipal vehicles. Her report was published on the commercialalert.org website. She penned a number of opinion/editorials on topics from civil rights and the war on terror to the dirty business of cement manufacturing to the nuclear waste crisis and congressional pay raises. Mary-Kate went on to clerk for a justice of the Connecticut Appellate Court and is now in private practice as civil litigator whose practice includes employment, commercial, landlord/tenant, real property and civil rights law.
In 2006, Winsted resident and Barnard College student Ariana McMahon researched and wrote about commercialism in the schools, focusing on vending machines that provide unhealthy drinks and junk food. Published in the local papers, her opinion/editorial was part of the pressure that pushed state legislators to regulate and restrict the placing of vending machines in public schools.
In 2008, Ken Krayeske, a former reporter for the Republican-American and the Register Citizen newspapers and now a lawyer in Hartford, researched legal issues and helped draft the brief in a case before the Freedom of Information Commission. Filed by the community lawyer, the complaint alleged that the Board of Selectmen violated the law by holding an illegal executive session. Ken assisted at the hearing, where the Commission ruled that the selectmen improperly convened in executive session and thereby violated the open meeting law. Ken, a University of Connecticut Law School graduate, is a committed community activist, involved in state and local issues, and a blogger of note.
In 2009, the head of the General Assembly Energy Committee invited the community lawyer to review the proposal to create a Public Power Authority. Gerrit Reynolds, a senior at the Kelley School of Business at Indiana University was assigned to research how electricity deregulation worked out in Connecticut. The resulting report – Technological Change, Greed and Politics: Why Energy Deregulation Failed in Connecticut and Will a Public Power Authority (PPA) Save Us? – concluded that deregulation failed to produce competition or reduce costs to consumers. Prices increased and the owners of the electric companies enjoyed record profits. The report was submitted to the House Energy Committee.
As an intern from 2007 to 2014, Sage Cadler organized two Veggie of the Week programs in conjunction with the YMCA.  She lobbied for the adoption of Connecticut's 2013 GMO labeling law that requires the labeling of genetically modified organisms in food.  She published columns in the local newspaper on a wide range of topics, including genetically modified organisms, the Gardasil vaccine, nuclear energy, community gardens, the appointment of Elizabeth Warren as the head of the Consumer Financial Protection Agency, the reauthorization of the USA PATRIOT Act, the use of drone attacks and the targeting of Americans, the Gaza Freedom Flotilla, as well a series on vegetables.  Sage graduated magna cum laude from Brandeis University in 2015 with a degree in Creative writing, English and Women and Gender Studies. She has worked as an administrative assistant for a urologic surgeon at Brigham and Women's Hospital. Sage's poetry is published in BOAAT Journal, The Great American Literary Magazine and Tinderbox Poetry Journal, among others. She now lives in Winsted and works as an administrative assistant to the residential clinical department at Mountainside Treatment Center in Canaan. Sage continues to write a lot in her free time.
From 1994-2006, Winsted resident Diana Britton worked at the Office of the Community Lawyer. She started in the 9th grade learning basic office skills. Over the years, working both part-time and full-time, she has managed the library/archives and filing system, upgraded and maintained the computer network and coordinated office supply purchasing, answered phones and greeted visitors. She also designed and helped produce Project brochures. Besides being an Emergency Medical Technician, Diana graduated from St. Joseph's College and the University of Hartford in the fine arts and plans to teach art to children.
Selena West is a passionate writer. As an intern for four years, she learned how to use her voice to better her community. She contributed columns to the local newspaper about a range of issues, from plastic pollution to civic education in schools. She organized community programs, including documentary film screenings, scholarly talks and a course in consumer law for citizens. She managed junior interns and edited their writing. She graduated cum laude from New York University, with a bachelor's degree in English and American Literature. Selena continues to write and she works as a Legal Practice Assistant in International Arbitration at the Manhattan office of King & Spalding, a global 50 law firm.
Cady Stanton interned with the Office of the Community Lawyer from 2015 to 2017.  During her time as an intern Cady contributed to the intern column in the Winsted Journal, writing about a variety of topics including the public financing of elections and feminism. She also worked on a long term research project about wind turbines in the region and assisted in the opening of the Winsted Community Bookstore and American Museum of Tort Law. Cady graduated from Georgetown University with a B.A. in journalism and women's and gender studies, she is passionate about writing, reporting, and communications with a particular focus on women's and LGBTQ+ issues. At Georgetown, Cady was an active participant in civic activities such as H*yas for Choice group, which distributes condoms and contraceptive information for students on campus, as a coordinator with the D.C. Schools Project that provides ESL tutoring in the D.C. immigrant community through the Center for Social Justice.
Krystal Bagnaschi graduated from The Gilbert School with honors. As an intern she attained autonomy through mentor-ship and independent work. She organized many community events, taped and edited lectures, and submitted columns to the local newspaper on topics such as climate change and U.S. politics. She is attending Smith College to study Environmental Science and Policy.
As an intern from 2014 to 2020 Cecilia Petricone taught classes on civic activism and basic legal principles, held weekly film screenings, and wrote a column in the Winsted Journal. Cecilia worked as the senior office intern for several years. During that time, she oversaw the work of the junior interns and worked collaboratively to organize a variety of projects and events for the community. Cecilia is a student at Boston College double majoring in Political Science and Sociology with a minor in Medical Humanities. In her free time, Cecilia works as an advocate and mentor to the pancreatic disease community, following her own experience with genetic chronic pancreatitis. She has also interned in the United States Senate as the minority office of the Health, Education, Labor, and Pensions Committee Education and Disability Policy Intern. She is set to graduate Boston College in May of 2021 and intends to immediately begin law school.